Guide to the Love Makes a Family Records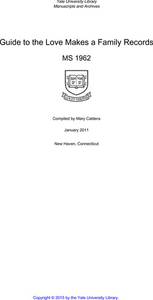 Yale University Library Manuscripts and Archives
Description
The Love Makes a Family (LMF) records consist of email correspondence, bylaws, reports, meeting minutes, research data, publications, Web pages, social media account files, topical files, interviews and testimonies, photographs, audiovisual recordings, and newspaper clippings documenting the history, structure, and activities of LMF, Inc. and its related organizations, the LMF Political Action Committee (PAC) and the LMF Foundation. The records are comprised primarily of the records maintained by Anne Stanback (president and executive director) and Carol Buckheit (associate director and executive director) and document all aspects of the organization including executive administration, strategy and policy development, fundraising, education and advocacy efforts, communications, and relationships to other marriage equailty organizations. As LMF reached its first three goals in its first year, the vast majority of the records document the effort to legalize same-sex marriage. The records document all the major developments of the marriage equality movement in Connecticut, as well as the broader national movement and its opposition. Additionally individual lesbian, gay, bisexual, and transgendered persons' lives and the impact of marriage discrimination is richly documented in testimonials, public hearing statements, and interviews. To a lesser extent other lesbian, gay, bisexual, and transgender anti-discrimination efforts in the state are also documented.
Type:
Text
Format:
Finding Aids Documents
Contributors:
Caldera, Mary
Created Date:
2011 01
Rights:
Rights status not evaluated. Contact host institution for more information.
View Original At:
From Collection
Yale University Finding Aids
Record Contributed By
Yale University
Record Harvested From
Digital Commonwealth